"Pendo" means "Love" in Swahili

The Pendo doll story is one of love, resilience, and global connection.
From Kenya to the USA, these artisan dolls embody the idea of endless possibilities for girls everywhere.




From Paris to Pendo's Dress Design
In 2019, the Elimu Girls worked with fashion designer, Shannon Ashford of TomfooleryLA to create an 8-piece collection for the Paris Fashion Show.
Weaving their story and hers, each dress became a masterpiece of collaboration and love. Shannon drew 'em, the girls made 'em, and models in Paris strutted down the runway wearing 'em. Talk about a global connection!
The collaboration was such a success that the girls created mini versions of those designs for the Pendo Dolls, so everyone could enjoy the glamor of the show.

Meet the girls the dolls were modeled after:
Prisca dreams of owning cattle and her own plot of land. She saved enough to buy her first smart phone.
Prisca is the fourth born of eleven children. Her mother and father are peasant farmers and have struggled to afford their girls the opportunity to attend school. She lives in a culture where boys in the family are given first privilege to further their schooling. Her fierce work ethic and creative nature have paved a new path for her to be an extraordinary leader in her village.
Carol dreams of providing three meals a day for her family. Her first paycheck splurge was to get her hair braided.
Carol is the last child in a family of 8 children, and lost both her parents to chronic disease at an early age. She is the only one of her sisters that has not been married off, and she is determined to pave a new pathway. Beyond the classroom, her infectious personality, gigantic laugh, and tenacious nature will propel her success as a young female entrepreneur.
Nancy dreams of being a role model for her village. Her first paycheck went towards buying fabric for a new dress.
Nancy is the only unmarried woman in her family of 12 to be happily pursuing her dreams. Her widowed mother is a farmer who has been unable to educate her children beyond primary school. Nancy is a natural born singer and has the work ethic of champions. She loves sewing, and wants others to succeed. Her energetic dancing is contagious amongst her peers as she glides and giggles across the one-room sewing college.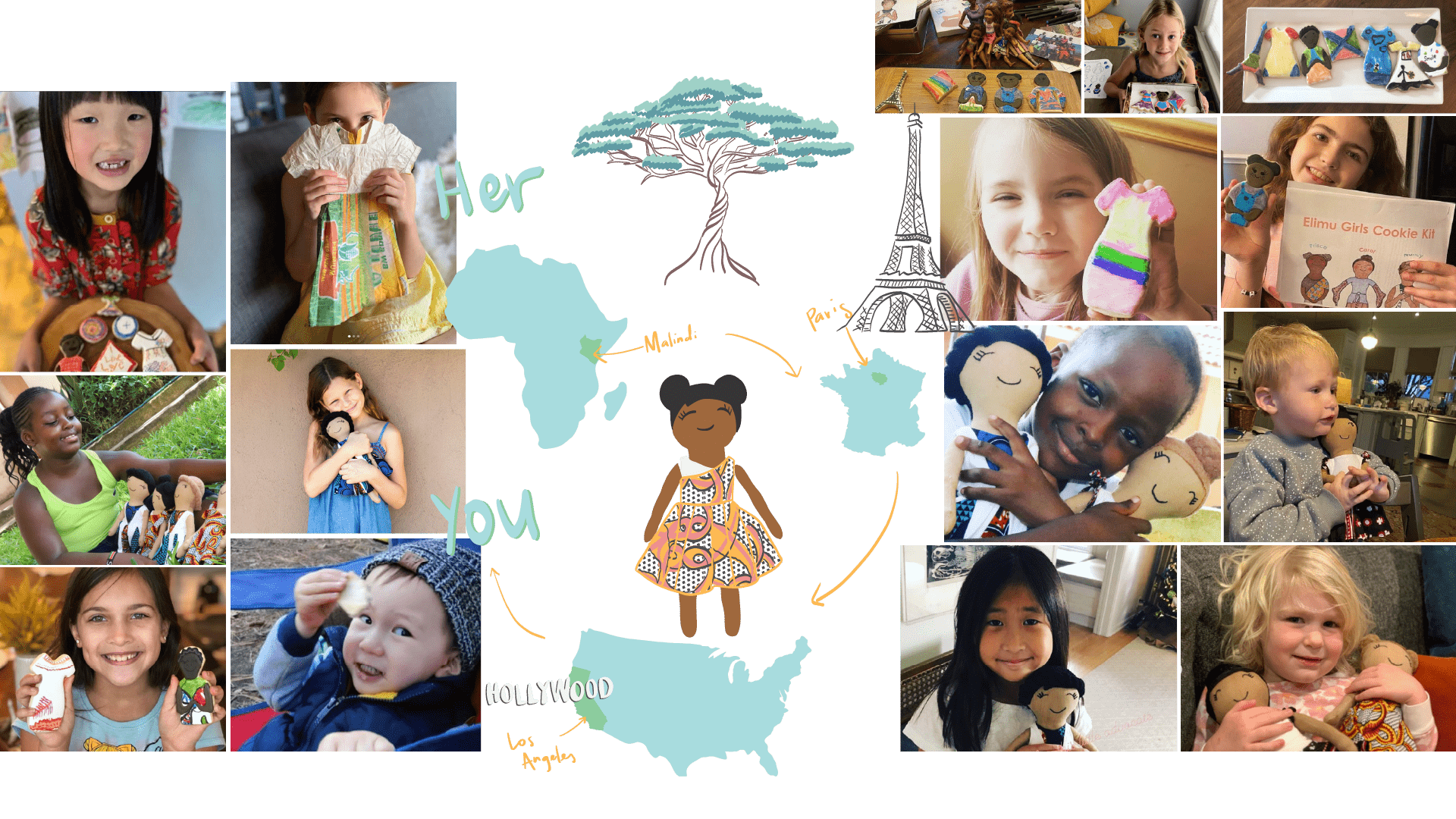 Shop and share your Pendo doll's adventures with us on social media @ElimuGirls!