2019 Tri For Her – She's SEW Worth It!
We were 17 Angelenos swimming, biking and running for her. Our motivation was stronger than ever, and we easily cut through the water, pedaled furiously, and ran until our muscles gave out.
Courage is Contagious
That motivator was to provide scholarship monies to Elimu girls, in a brave effort to help them transform their lives from vulnerable, rural village teens to income generators and thought leaders for their communities.
For weeks leading up to the fall triathlon event, we trained together in small groups or individually, pushing our bodies in preparation. It seemed like every day we did a little more to prepare for the main event: swimming on Wednesdays and Fridays, runs on Tuesdays and Sundays, and bike meetups in the park on Sundays.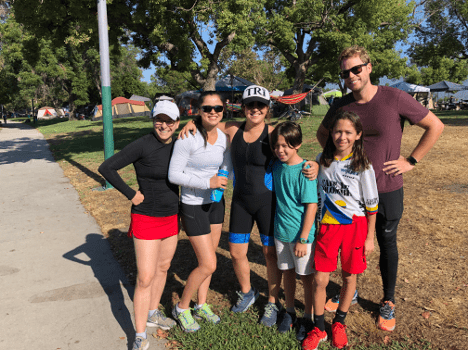 Triathlons don't build character, it reveals it.
The Cal Tri Event, held at the Santa Fe Dam Recreation Area, is located in Irwindale, California. The recreation area is an 836-acre multi-use facility with the park's main feature being a 70-acre lake. The triathlon went off with a bang on the autumnal morning of October 26th. The air temperature was a perfectly cool 60 degrees, and the water temperature averaged 68-70. There were no waves in the waters of the dam. Whew!
After the event, we slapped each other's chilled backs and hugged, happy to have completed such a feat as a triathlon, all 17 of us. Even the younger triathletes in the group celebrated with 1st time medals. A day we will never forget! But ultimately, ecstatic to have raised $25,000 for the Elimu Girls. This donation amount goes far in the rural village of Malindi. Tuition fees for the first year of college for one girl is around $665. Two years of tuition, exam fees, and a personal sewing machine is $1600. The impact was grave for these courageous women to pursue new pathways of entrepreneurship.