In Los Angeles, We Share Stories of Girls in Kenya
In late fall of 2019, Elimu's founder, Nina Chung, visited Los Angeles for a jam-packed, informative week with Elimu-USA President, Cindy Rodriguez. Also visiting was Shannon Ashford, founder of clothing line TomFoolery. The trio hosted an intimate gathering to present Elimu's mission, with a special focus on the sewing program for Elimu girls.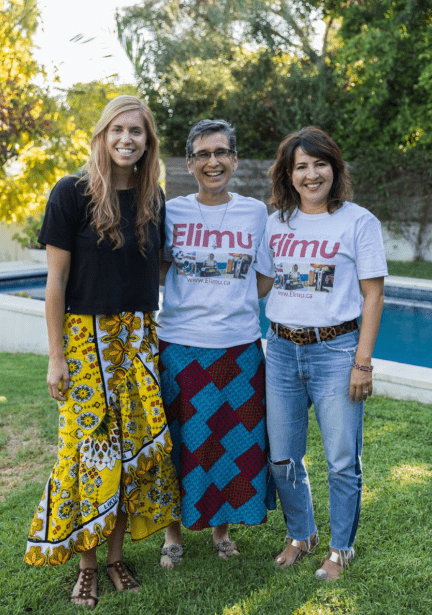 Cindy hosted a gathering of local, compassionate women to hear the compelling stories of the young Kenyan women who have experienced the Heri Sewing College program. The narratives spoke of girls hailing from vulnerable situations and under the weight of cultural expectations. Ultimately, many changed their fate by participating in the sewing program. These women left the program with essential income generating skills, and the ability to contribute to their family's welfare by launching their own sewing businesses.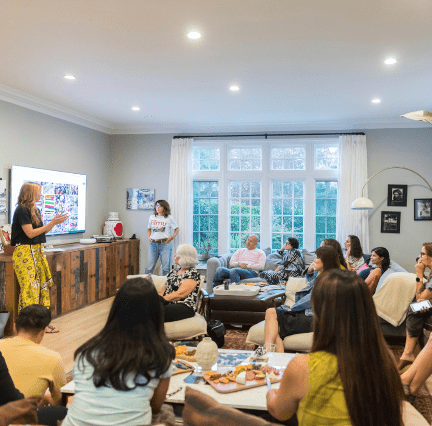 Shannon Ashford, founder and designer of #Tomfoolery, shared stories of her recent visit to Malindi and the sewing college, and the rewarding experience she had working with Elimu's sewing graduates. In August, Shannon worked with the young women to prepare a set of Tomfoolery's signature jumpsuits for Paris Fashion Week 2019. The jumpsuits are inspired by the bold, bright African fabrics and show off an innate fashion sense by the Elimu sewing graduates.
Nina shared the plight of these young women and how they are transformed from vulnerable, timid teens into confident change-makers. Often, these women are the first female entrepreneurs in their village.
In the first year of the sewing program, the students use maize corn bags to practice their new sewing skills. This is because they are cheap and recyclable! Initially, the students create many small versions of a women's dress for practice. In the second year of the program the young women switch to fabric.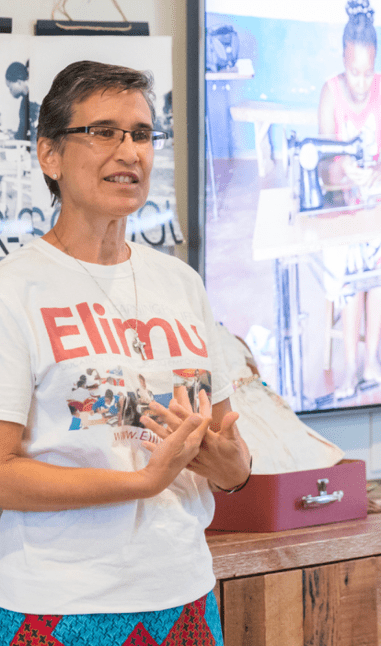 What a treat to have Nina and Shannon share the personal stories of the Elimu girls with the intimate group gathered in Cindy's living room. We look forward to the next event!